Vishnu Manchu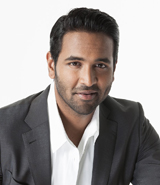 Vishnu Manchu is an actor, director, producer, and education professional. He was born on November 23rd of 1981 in Chennai, India. He won the Filmfare award for Best Male Debut in 2003 for a role of a responsible lover boy in action film Vishnu. He is no stranger to television direction. Some of his credits include Zee Telugu's series Happy Days, Lakshmi Talk Show, and Premathoo Mee Lakshmi.
Vishnu owns a production house called 24 Frames Factory. Under this umbrella, he has produced films such as Vastadu Naa Raju, Dhenikaina Ready, Doosukeltha, Pandavulu Pandavulu Tummeda, Rowdy, Anukshanam, Current Theega, Singham 123, Dynamite, and Mama Manchu Alludu Kanchu. He also founded a post-production company called Think Smart, which specializes in motion graphics, animation, video production, and similar.
Vishnu Manchu founded Spring Board International Preschools in 2014. His organization provides children in the country with access to quality education. Vishnu started a social program called Army Green for promoting environmental awareness. He is also the founder of an American International School, New York Academy, a world class private school providing cutting edge progressive education. Although these projects are new, the schools have already proven their competency in delivering superior education services.
Production company Via Mar Entertainment was founded by Vishnu Manchu and a team of acclaimed professionals with a goal of developing story-driven movies and web series.